Galaxy S8+ Specs Revealed
Galaxy S8+ Specs Revealed
The specs for the newest Galaxy smartphone were revealed by Evan Blass. He posted the information on his Twitter account: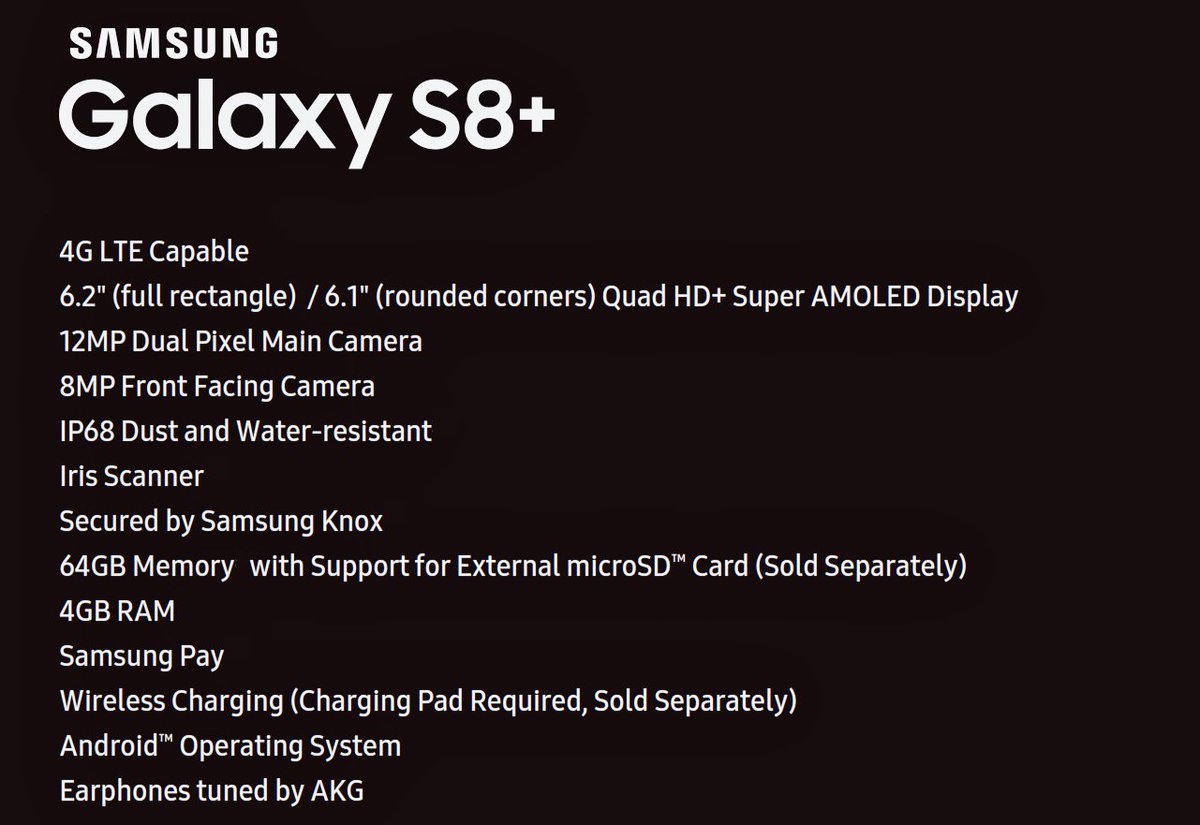 https://twitter.com/evleaks/status/834550877058953216/photo/1
The Galaxy S8+ is 6.2 inches and features an Iris scanner. It is secured by Samsung Knox, and it's powered by the Qualcomm Snapdragon 835 processor. This is the first phone with that processor. It is expected to be released on April 21.
Source: BGR
Samsung Knox is a mobile enterprise security application. It is used by several companies, including Saint Elizabeth, a Canadian in-home health care provider. Here's an excerpt from a case study:
Saint Elizabeth needed a technology solution to help its vast network of remote workers stay connected, access information quickly, and deliver a world-class level of health care. Working with Samsung, Saint Elizabeth selected three types of devices to empower their dedicated staff. Devices included 5,000 GALAXY Tab S LTE-connected tablets and 500 GALAXY S5 and Note 4 mobile devices optimized for on-the-go performance.

Each device includes KNOX Workspace to ensure security. Patient data is protected behind two-factor authentication. Since KNOX Workspace also includes integration with Enterprise Mobility Management (EMM) solutions for configuring the management and security settings of Samsung devices, Saint Elizabeth can use SOTI Inc., a Samsung EMM partner, to manage, control, and monitor the devices.

Benefits

With Samsung devices and KNOX Workspace security, Saint Elizabeth offers its workers a powerful tool for improving patient care while maintaining patient privacy.

More efficient, effective healthcare

The Samsung devices and a range of apps help Saint Elizabeth healthcare workers connect the circle of care. Staff can schedule appointments, plan and navigate travel routes more efficiently, and electronically record patient data from a single device.

Protects patient privacy

KNOX Workspace protects workers' personal information in a separate container from patient data and applications. KNOX Workspace applications and data cannot be accessed or shared with any applications outside of the Workspace.

Saint Elizabeth can specify that health workers input a password and one additional identifier to ensure authorized personnel are accessing patient data.

Easy to use and maintain

Staff can get up and running quickly, since Samsung GALAXY Tab S, S5, and Note 4 devices are intuitive to use. Features like Multi Window, Ultra Power Saving Mode, and SideSync 3.0 make it easier for healthcare workers to stay productive and spend more time on patient care. Since KNOX Workspace supports MDM/EMM solutions, Saint Elizabeth can also centrally manage security and remotely troubleshoot any issues.
Galaxy S8+ Specs Revealed